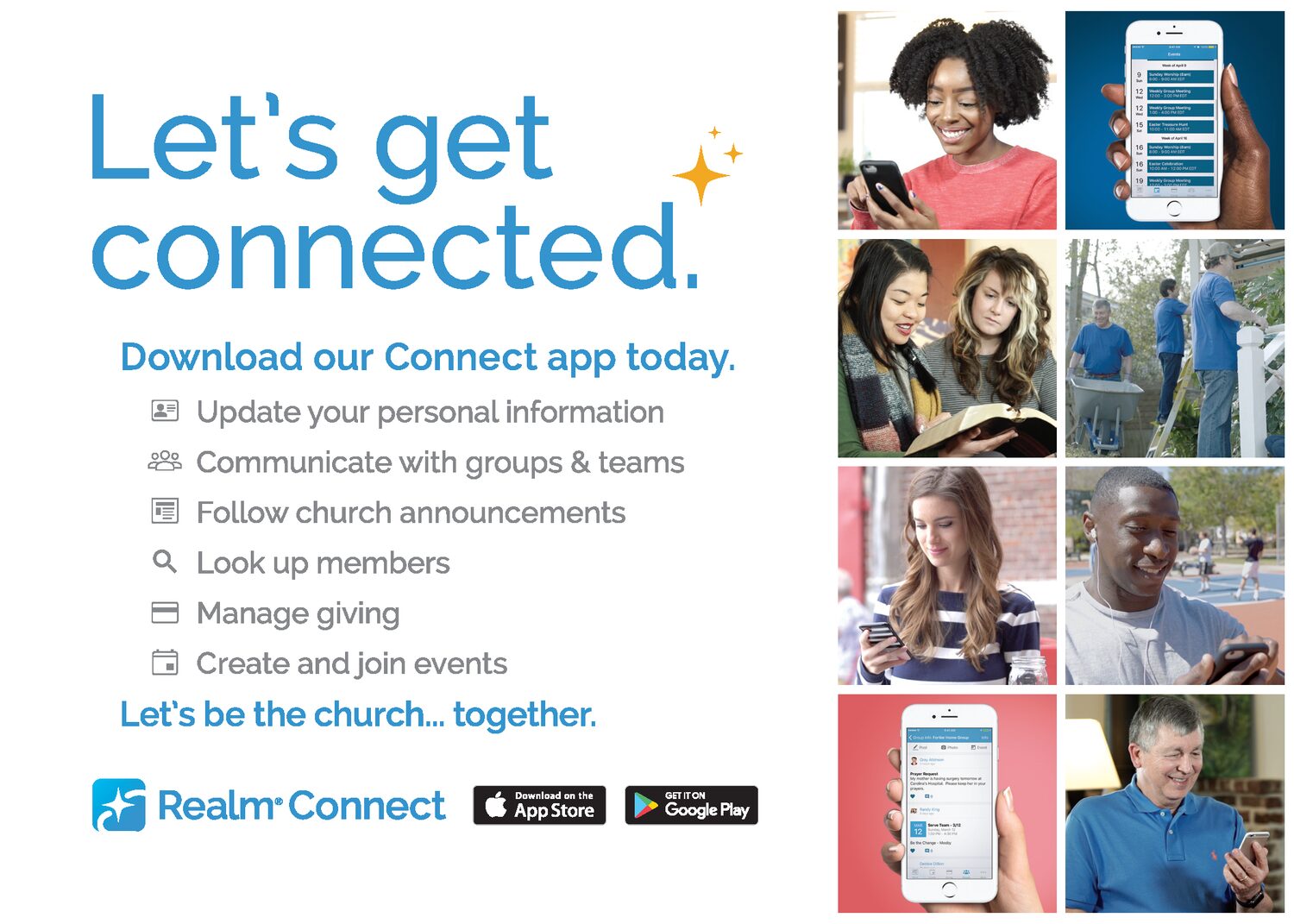 In 2018, Cave Spring UMC started to use Realm as a way to bring our church members online so that we can stay in contact throughout the week. Not only does Realm help improve work life for our ministry staff, it will make it easier for our church family to connect with each other, keep up with what's going on, and grow as a connected church family. As a private place for our church, Realm requires each user to have a login with an
e-mail address and a password.
Please note the Realm website will only work properly on Google Chrome.
Step 1: Check Your E-Mail and Activate your Profile
Before logging into Realm, you must be invited to join our church network on Realm Connect. To receive an invitation, call the church office or email realm@cavespringumnc.org to request on invite. After receiving the e-mail, open it, and follow the instructions to create your password. Then watch for a verification e-mail, and follow the instructions to activate your profile.
Step 2: Log in to Realm
After you have activated your profile, you can log in to Realm at www.onrealm.org/CaveSpringUMC. Click the Realm login button and enter your e-mail address and password that you created.
Step 3: Check Your Contact Information and Privacy Settings
After you have logged in, click on the arrow next to your name in the upper right corner of your screen. Select "My Profile" to check that we have your personal information correct. If anything is incorrect, you can change it. Simply click on "Edit Profile" to change your contact information.
To see your privacy settings, click on "Manage Privacy." We highly suggest that anyone over the age of 18 choose "Everyone in our church." This makes it so that other Cave Spring UMC users can see your basic contact information (just as they have through printed church directories in the past!)
Parents: As part of our policy, privacy settings for profiles of children under 18 are set to "Only the Church Staff" and we suggest that this not be changed. 
Step 4: Change Your E-Mail Settings
Click on the arrow next to your name in the upper right corner of your profile screen. Select "E-Mail Settings." Select either "New posts only" or "All posts and replies."
Step 5: Upload a Photo of Yourself
As our church continues to grow, connecting a name with a face helps everyone to get to know each other. Please add a headshot that shows your face clearly. To upload a photo from your computer, click on the circle containing your initials.
Step 6: Explore Realm!
Click on the selections in the left column of the screen to see news, your personal giving history, ministry and small groups that you belong to or may want to join, the church directory, and more! As we grow on Realm, more information and events will be added for you to explore.
Step 7: If You Use a Smartphone or Tablet, Get the Realm App
After activating your profile online, you can use Realm on your smartphone or tablet. Download the Realm Connect app from the Apple App Store or from the Google Play Store. Search for "Realm Connect" (the full name of the app is Connect- Our Church Community from ACS Technologies.
Realm
What is Realm?
Realm is an online ministry tool that helps our church connect with and your connect with us. All of our church family will love Realm Connect. This tool allows you to manage your privacy with other users, control your giving, and keep in touch with your ministry groups.
Why use Realm Connect?
Using Realm Connect makes it easier for our church family to be in communication with each other beyond just Sunday mornings. Realm engages everyone in the life of our church by helping to support the ministries that are essential to our church. When we are able to share life together, it makes it possible for us to grow together.
What about my privacy?
Realm Connect is safe, private, and secure. Realm Connect is only made up of people from our own church family, not anyone else. This is not a social media site, it is a ministry tool that keeps your data safe and gives control over what information you share.
What about giving?
With Realm Connect you have control over your giving. Within your profile you have the ability to see your personal giving history, set up re-occurring gifts to your church, and make changes at any time.
Have questions about Realm?
Please contact realm@cavespringumc.org or by calling the church office at 540-989-3673.
Address
4505 HAZEL DR.
ROANOKE, VA 24018
SOCIAL MEDIA
Learn more about Cave Spring and our day-to-day activities on our social media pages.